Register for the program and record your progress online at
---
Lyndsey Brennan
June 1, 2022
Hi there, library lovers,  
We see you. After clawing your way through another rough winter and a spring chock full of work responsibilities and school activities, we've made it to the promised land (read: summer).   
And as we do every year, we're inviting you to take part in our summer reading program.  
We know it can be hard to make time for reading with all you've got going on: Graduation parties. Vacations. Yard work. Little league.  
But a couple families told us what it has meant to them to participate in summer reading, and we thought maybe it would inspire you to get involved too:
"Summer reading gave us a chance to spend time together as a family." We've heard from families that summer reading provides the perfect opportunity for consistent intergenerational bonding. Adults can read to children. When adults are busy, children can read to each other. Families can make a habit of tracking their reading, using a phone or tablet, together.  
"Summer reading gave us something to do for free on a tight budget." The Friends of the Library have generously paid for animal and magic shows, exercise classes, and arts events so you don't have to. We also received coupons from local businesses for patrons to earn and use around the community throughout the summer. 
"Summer reading gave my child confidence going into the next school year." We know from studies that reading just four to six books over the summer can potentially prevent the dreaded "summer slide" — that is, the tendency for students to lose some of the achievement gains they made during the previous school year.  But even more meaningful, families have found their kids bring the confidence they gained from the reading program back into the classroom. 
---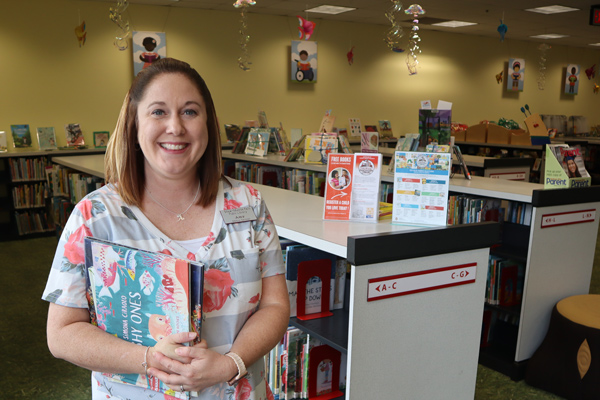 Amy Thomas, the assistant head of children's services, described one interaction she had with a family who had won a summer reading grand prize in 2020:  
"We called the grand prize winners and left messages. Literally two hours later, one of the winners and her mother showed up. They said, 'We just got your message, and we're so excited!'  
The daughter thanked us, took her prize, and went off to look for books. Then, the mother looked at me, and she had tears in her eyes. She said, 'I can't tell you how much this summer reading program has meant to us.' 
'My daughter has several learning disabilities, including dyslexia, and reading has always been a struggle. But at the beginning of summer, you helped us find some books, and she really liked them. Every day we go into the app and track her reading together, and for some reason, it's really motivated her.'  
She added, 'You always wonder who wins these contests, you know? But we actually did. And for her to win this prize, it just means so much.' 
It made me realize, what we think of as little incentives can mean so much more to some families.  
Kids are self-aware. They know when they're struggling. But we've found this program helps a lot of them gain confidence in their reading — because they can choose what they read. No one is handing them a list of books and saying, 'You must read this.' It's their time to explore." 
---
To sign up for this year's summer reading program, Oceans of Possibilities, head over to www.smfpl.org/summer. We look forward to seeing you again.