History of Stow-Munroe Falls Public Library
Stow Library was founded in May 1924 as a school district library with a Board of Trustees appointed by the Board of Education. Located in the Township Hall close to the town center, it served both Stow and Munroe Falls, as it does today. Jessie Williamson, daughter of Adella (Adell) Durbin, was the first librarian of Stow Public Library. Mrs. Williamson was sent for library training at Western Reserve University for one month in the summer of 1924, at the expense of the Trustees. The library officially opened to the public in January 1925.

Head Librarians and Directors
Jessie (Mrs. Don) Williamson, June 1924 – July 1927
The Library's collection at this time consisted of 2,000 books, primarily fiction with some reference books. The first budget of $4800 had to provide service to the public library, as well as to the high school and grade school libraries.

Louise Thomson, July 1927 – July 1929
Ms. Thomson began cataloging the library book collection with a cataloging budget of $500. She also instituted celebrations for National Library Week and Children's Book Week, set up book displays, and held Story Hours for children. After Ms. Thomson resigned, the Board of Trustees voted to give the new librarian a two-week vacation at the end of the first year, but she would have to find her own replacement and pay her herself!

Nellie Glass July, 1929 – August 1932
In 1930 a part-time assistant to the librarian was hired and the Library Board of Trustees purchased the Clara M. Bradley property at 122 Hudson Road (now Darrow Road) for $8,500. It was located across from the First Christian Church. The library was moved from the township hall building to a small house on the property, which was home to the library until 1963.

Marion King August, 1932 – July 1937
Marion King began the practice of inserting library news into the only existing local paper at the time, "The Community Church News", which was issued by the Community Church of Stow. Ms. King also accomplished full cataloging of the collection for the first time.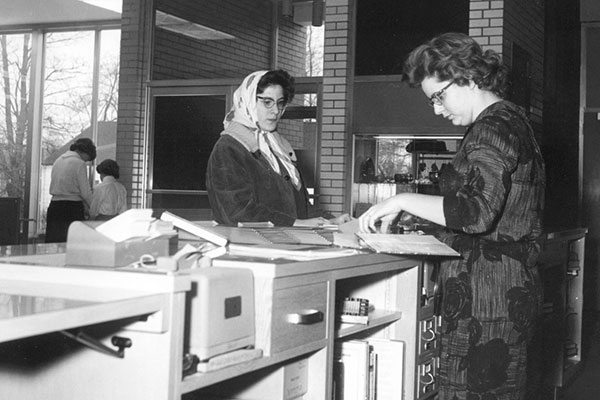 Jeanne C. Lewis, September 1937 – November 1939
Jeanne C. Lewis was the first graduate of the Kent State University School of Library Science to lead the library. During her tenure, the Board of Trustees decided to allow personal sick leave for the librarian. She did, however, have to personally reimburse her substitute at $.50 an hour.

Lottie Mae Straka, February 1940 – February 1945
During this time, the little house was remodeled to include a new office and staff workroom, music recordings (78's and LP's) were added to the collection, and the assistant librarian position was made full-time. Two cents per day was charged for overdue items.

Bernice Van Hyning, May 1945 – September 1947
Ms. Van Hyning started sending book reviews to be published in the "Community Church News" and she began submitting detailed circulation reports to the Board of Trustees, something that had not been done in the past.

Myrtle Sloan, June 1948 – June 1949
According to Library Board of Trustees minutes, the board had difficulty finding a librarian because the beginning salary was very low and there was a shortage of qualified librarians. Ms. Sloan retired after one year on the job.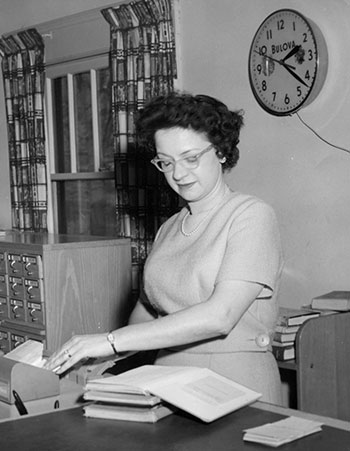 Dorothy A. Stair (Saviers), June 1949 – November 1963
Many changes occurred during Mrs. Saviers' fourteen-year tenure. The first telephones were installed in 1950 and a mimeograph machine and a safe were purchased the same year. The first shelvers were hired in 1953 at a salary of $.50 per hour. In 1959, the connection between the public library and the school libraries was severed and planning began for a new library building. By 1963 there were six staff members and yearly circulation was over 100,000.

Doris Jyurovat, November 1963 – December 1985
Doris Jyurovat, or Mrs. J., as she was known by in the community, started as acting Director in 1963 after the resignation of Dorothy Saviers. Mrs. J. instituted monthly staff meetings, a library organizational chart, a staff handbook of operations, and staff professional continuing education. In the 1960's, regular story hours were set, school fields trips to the library began, and book discussions were begun. Mrs. Jyurovat oversaw three building projects in 1963, 1973, and 1979. In 1963 plans were made to move the library from the little house. By 1973 the new building needed an addition. Another addition added in 1979 gave the library a total of 20,000 square feet of space.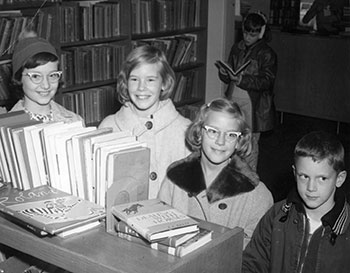 Margaret Cooper, January 1986 – February 1997
Margaret Cooper integrated new technologies into the library, with the addition of automated Circulation and a computerized card catalog. After four years of work, the Project 2000 committee, consisting of library staff, Trustees, and community members, initiated an addition and renovation plan. The plan allowed for utilization of the second floor and updating of the first floor to accommodate increases in materials and technology. A 12-year, 0.88-mil bond issue was passed in November 1995 to fund this project. Because of Mrs. Cooper's medical leave during most of 1996, Vickie Victoria, Assistant Director, served as Interim Director. Ms. Victoria oversaw the expansion of the library, as well as the library's move to temporary quarters in the Stow-Kent Shopping Center. The newly expanded and renovated Stow-Munroe Falls Public Library opened to the public in November 1997.

John Patane, June 1997 – March 2004
On December 7, 1997, Mr. Patane hosted the grand re-opening ceremony, attended by over 1,000 guests. Immediate results of the expansion and renovation of the library included huge jumps in circulation and new card holders.

Douglas H. Dotterer, March 2004 – March 2020
Doug Dotterer became the director at the Stow-Munroe Falls Public Library in March of 2004, after serving as Head of Reference Services for six years. His passion was to make a difference in people's lives by offering cutting edge technology, a rich diversity of programming, and a wide variety of library department services. He led the effort on two successful library operating issues in 2005 and 2010, presided over two comprehensive building interior renovation projects in 2013 and 2014, and successfully lobbied Senator Sherrod Brown's Office to make the library a United States Passport Acceptance Facility. He oversaw the purchase of two library outreach vehicles, and wrote three large non-matching library grants, including a $106,661 Knight Foundation Challenge Grant for computers, printers, and equipment in 2010-11.

Gale Koritansky, September 2020 - Present
Gale Koritansky, originally from Chardon, Ohio, has extensive public library experience and served most recently as the Division Chief, Head of Branch Services at the Arlington Co. Public Library in Arlington, Virginia. In her role as director, Koritansky said "I would like to continue bringing our wonderful collections, programs, and outstanding customer service to the community. I want to create a space for the public to tell their stories, get their information, and share their ideas. In addition, I would like the staff to start bringing our services out into the community and letting people know we are more than just books. We are the place for the community to gather for lifelong learning."
*Information taken from Library Leaders – 80 Years of Library Directors 1924 to 2004, written by Chris Caccamo. Sources of information include news clippings, volumes of the Community Church News, Stow Public Library Minutes, Recollections of Living and Working in Stow and Stories of a Stow Native by Fred Long and History of Stow Library by Phyllis K. Woodward. All sources are located in the Stow-Munroe Falls Public Library Local History Room.